Huntingdon County Foundation
The Huntingdon County Foundation was created in 2009 as a public charity in order to support and assist non-profit organizations in Huntingdon County to meet the needs of the community with special emphasis on leadership development and education. The Foundation strives to help individuals, families, and businesses to pursue their charitable interests conveniently, effectively, and with maximum tax benefits.
What do we fund?
We value projects that are creative and support social investment, economic investments, educational investments and overall economic development. We reserve the right for the Foundation Board of Trustees to review and approve budgeted items and to fully or partially fund such budgets. We reserve the right to reject any and all requests.
Requirements
Your request should fall within the guidelines of what we fund and you will need to complete an application. We require the following information:
Tax Exempt Status – Attach IRS Letter
Financial Statements (if established organization)
Most recently audited project funded Financial Statements (if established organization)
List of Current Board Members and Affiliations
Form 990 (Most recently filed)
15 Copies of the Application, Information Form and all related information.
Explanation how your project will meet the purpose and intent of the Foundation.
Explanation how your program is unique and is fulfilling a specific community need.
We reserve the right to request additional information
What We Do Not Fund
Applications will not be considered for the following purposes:
Political action or legislative advocacy groups;
Fraternal groups, athletic teams, bands or veteran's organizations;
Programs that provide support on specific health issues;
Programs or initiative where the primary purpose is the promotion of religious doctrine or tenets;
Major Capital Items; ($5,000 or more)
Projects which are not located in, or of benefit to the residents of Huntingdon County.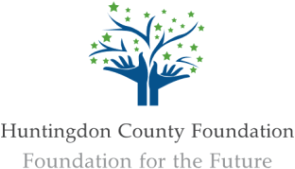 Dee Dee Brown, Ann Dunlavy, John Eastman, Craig Eisenhart, Melissa Cisney Foster, Robert T. Gentry, Wayne Hearn, Rev. Brett D. Hoover, Amanda Jenkins, Dan Nead, Lawrence L. Newton (Chair), Doug Roles, Julie Sliver, Philip Thompson, Karla Wiser, and Tom Yoder.